Tile And Grout Cleaning Services
Revitalize Your Floors Through Tile And Grout Cleaning
You probably don't need new floors. It could be that you just need your tile and grout areas deep cleaned. That's where we come in. Shine N Dry takes care of more than your carpets; we can clean and restore all types of floors, including tile. If your grout is dirty, stained, weathered, or discolored, we will work hard to get it back to a uniform, clean state you will love! We'll also clean your tiles to perfection. Do you have additional tiled surfaces that could use a good cleaning? Let us know; we might be able to take care of those for you, too. Don't stress about your floors any longer. Contact us today for a free, no-obligation quote.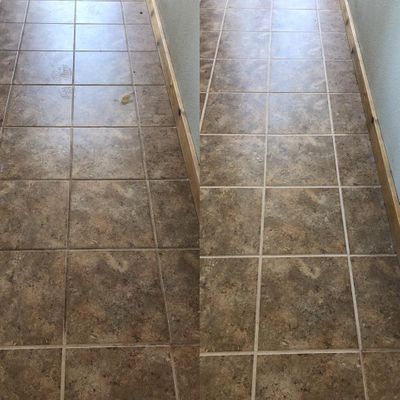 Why Choose Shine N Dry For Your Tile And Grout Cleaning?
You will enjoy like-new floors without having to replace them!

Our team is experienced with all types of flooring

If you need all of your floors cleaned, including your carpets and wood or laminate flooring, we can do the job for you efficiently and affordably

We are a local, family-owned business serving Northern Colorado

We serve both residential and commercial clients
Tile N Grout
We really enjoy tile and grout cleaning jobs because of the clear difference our work makes! Every time, the transformation is incredible. After we use orbital technology to get your tile and grout surfaces back to a like-new state, we reseal the grout lines to protect them and keep them clean, even in high-traffic areas. The majority of our tile and grout cleaning customers require this service just once every three years thanks to our resealing step, which we feel is vital. We don't even charge extra for it! It's how we like to do business, going the extra mile for our customers. Call us today to schedule your tile and grout cleaning appointment.
Our customers tell us how much they appreciate our tile and grout cleaning services, which often make their floors look brand new. This is an inexpensive way to revitalize floors, especially in high-traffic regions (but really, anywhere!). If you're looking at your floor and thinking it needs to be replaced, but you're worried about the cost involved, get in touch with Shine N Dry first. Our tile and grout work may be enough to make your floor great again, at a small fraction of the cost it would require to replace. We specialize in all types of floors and surfaces, and we take great pride in a job well done. Got questions? Reach out to us today!